On Fall Equinox 2000 Jereb began building temples of stone at Stardreaming south of Santa Fe, New Mexico. These marked the beginning of the Temples of the Cosmos, 16 open-air temples/labyrinths over 22 acres.
Approximately 50 different kinds of stone were used to build the Temples of the Cosmos. 800 tons of stone were used. The stones come from sources throughout the United States and Mexico. The stone ranges in size from huge boulders of quartz and granite to chipped pieces of obsidian and red jasper.
Each temple is oriented to specific stellar, lunar or solar alignments. Each temple has its own creation story, unique design, type of stone used, and time of the year it was built. Created according to the Hermetic tradition of revered geometry, alchemy and magic, these temples, or vortices, create a portal for divine energy and healing.
In addition to the stone temples, the Temple of Illumination was created as an inner sanctum at Stardreaming. The paintings and crystal skulls with adjoining garden sanctuaries act as a very powerful magical experience.
"In creating these temples, the stone taught me surrender, trust, love and humility."
Aerial photo of Stardreaming Temples as of 2012. Newer temples not shown.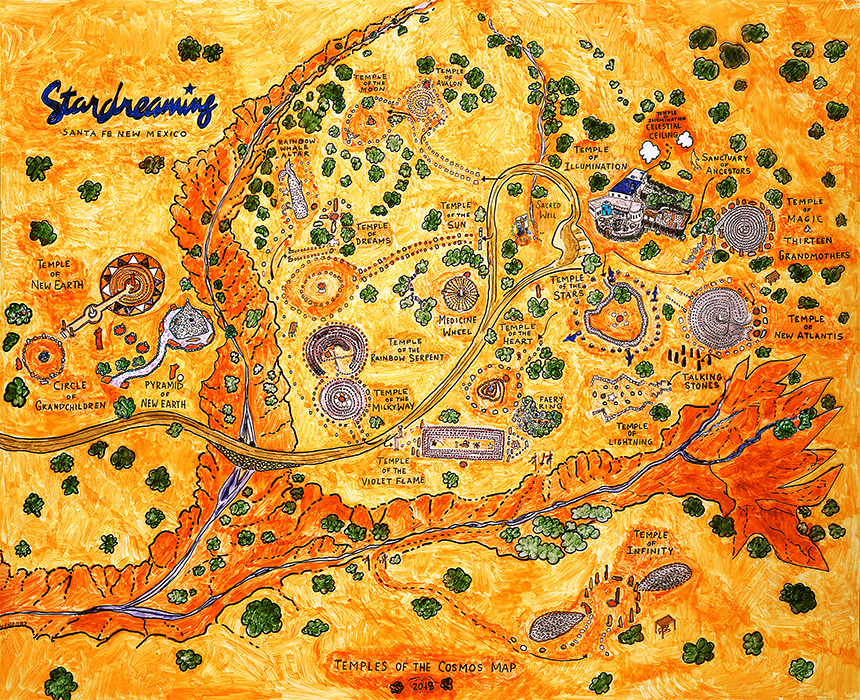 Illustration by Meg Davenport.