Stardreaming is a sanctuary for pilgrimages, ceremonies, initiations and prayer.
James's paintings embody sacred wisdom, sacred geometry, divine magic and are portals to the alchemy abiding within us all.
James is the author of several books, including Alchemy of the Stone: Journey of a Visionary Artist and Alchemist, Quest of the Golden Dolphin in the Land of Stardreaming, and Spirit Magic Light: A Visionary Meditation for Enlightenment.
The Temples of the Cosmos and Rainbow Whale consist of 800 tons and 50 different kinds of stone and crystal. Building the Temples began on Fall Equinox 2000 and was completed on Winter Solstice 2022.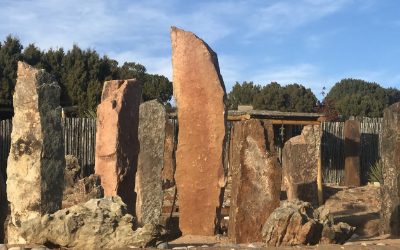 The Temple of Ascension of Matter was completed on November 22, 2022. It is aligned to the solar and lunar eclipses. This Temple, and the completion of my book Alchemy of Magic: Paint, Print, and Stone, were the most challenging and rewarding of my life so far. ...
Featured Items from Starport, Stardreaming's Online Shop
Artisan, Santa Fe, visits Stardreaming on naming James Artist of the Month. Interview by Ron Whitmore.
Excerpt from interview of James with video tour of Stardreaming. Includes stunning aerial views of the Temples of the Cosmos.
Watch the full version
.